Agronomic benefits of tile drains are clear, and are evidenced by increasing rates of installation, particularly in areas with clay soils or a high groundwater table. Tiles serve to reduce saturation in production land, allowing crops to increase yield in more favorable growing conditions.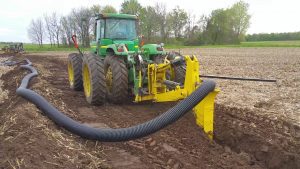 Unfortunately, evidence suggests that the water flowing through tile pipes and discharging to waterways during storm events can have high concentrations of bioavailable phosphorus – a nutrient of concern in many freshwater ecosystems. Partnering with researchers at the University of Vermont, the Friends of Northern Lake Champlain, and Vermont farmer, Watershed is investigating a filter design using locally-sourced materials to reduce the concentrations of bioavailable phosphorus before it leaves the farm field. This study aims to answer:
Will an in-ditch filtration approach effectively reduce soluble phosphorus from tile effluent?
If so, can this approach be paired with a auto-valve system to provide treatment through a filter in base flow conditions, and temporary retention in the ground during large storm events when filtration is impractical?
Results of this study are expected at the end of 2019 and will be shared on our website as well as through the funder, Lake Champlain Basin Program.