Protecting critical headwaters through floodplain restoration.
Cabot's Town Garage site was located in a headwater tributary's historic floodplain. The location was a poor choice for a busy town garage and the Town elected to move it to a higher side in the watershed to reduce infrastructure flooding and restore the land for improved stream health.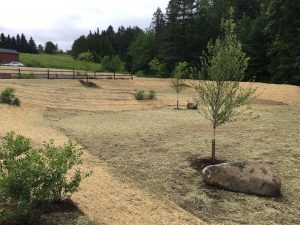 Prior to this project, the stream was severely constrained by the Town Garage building and material storage areas. This proximity required the placement of fill and a retaining wall to protect against erosion and flooding. Repeated flood events and subsequent costly site damage occurred in high flows, and, in one large event, a large portion of the yard area and the Town's sand pile was washed downstream. The site was chronically contributing sediment and other pollutants to the headwater tributary, even in smaller storm events. The restoration process included removing all structures on site, relocating Town Garage operations, removing the retaining wall, excavating a floodplain area, and establishing a vegetated buffer with native plant species. The newly created floodplain allows high flows to spill into a backwater area where sediment is deposited and stream energy dissipated. This project improves water quality and reduces flood severity downstream. As an added benefit, the newly created Town space is now a recreational area for residents and will engage people with the water resources of the Town.
5,400 ft2 of floodplain restored
Removed retaining wall along approximately 250 ft of streambank